Career Services Manager - Part-Time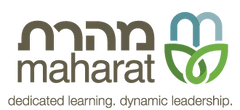 Yeshivat Maharat
Job Functions:
Administration, People & HR
Employment Types:
Part-time
Locations:
Remote; Bronx, NY, USA
Compensation:
30,000 – 35,000 USD per year
About Maharat
Founded in 2009, Yeshivat Maharat is the first institution to ordain Orthodox women as members of the clergy. Maharat's vision is a world in which Jewish communities are educated, dynamic and relevant, where diverse and impactful leaders inspire Jews to live spiritually engaged lives. Learn more at www.yeshivatmaharat.org.
About the Career Services Manager
Maharat is hiring a conscientious and resourceful Career Services Manager to support the placement of students in internships and chaplaincy programs and graduates in post-graduation rabbinic roles, and serve as a professional resource to alumnae as they grow their rabbinic careers. Reporting to the Executive Vice President, the Career Services Manager will work closely with the President to secure job and internship opportunities for students and graduates.
Responsibilities
Internships and Chaplaincy Program

Maintain relationships with current and past student internship and chaplaincy placement providers, and cultivate relationships with new and prospective internship providers (synagogues, schools, Hillels, community organizations) and chaplaincy placements
Supervise process for matching students with sites; keep records of internships and chaplaincies and mentor feedback
Hold regular feedback meetings with students and internship and chaplaincy sites to ensure mutually beneficial and positive outcomes

Placements

Cultivate relationships with potential and existing Maharat graduate employers and strategize best ways to open doors to hiring Maharat graduates in Orthodox institutions
Maintain professional relationships with HR professionals at umbrella organizations (e.g., Hillel, JCCA, etc.)
Meet with third-year students to create post-graduate plans
Support institutions with change-management processes when bringing in female clergy

Student and Alumnae Career Support

With the Director of Alumnae and Community Engagement, offer career-building workshops, including resume and interview preparation, contract negotiation (including information about parsonage)
Conduct research and keep records about market-rate salaries and benefits
Mentor graduates with respect to career guidance and professional growth and/or pair graduates with mentors in the field
Maintain job database for students and alumnae
Qualifications
Bachelor's degree required
Minimum of 3 years of experience
A keen understanding of the Modern Orthodox community and the Jewish professional landscape
A professional, flexible, entrepreneurial and resourceful attitude
An engaging mentor with strong personal communication skills
Strong organizational and record keeping skills
Human resources and/or job placement experience is a plus
Experience working with hospitals and other chaplaincy sites is a plus
Commitment to the mission, philosophy and values of Maharat
Details
20 hours/week
In-person, hybrid, and fully remote candidates will be considered. Occasional travel to New York to meet with students may be required
Apply
Please send an email with the subject "Career Services Manager" including resume and a cover letter sharing your interest and experience to Jobs@yeshivatmaharat.org
Frequently cited statistics show that women and underrepresented groups apply to jobs only if they think they meet 100% of the criteria. If you meet many but not all the criteria and feel you may be a good fit for the role, we encourage you to apply
Yeshivat Maharat is an Equal Opportunity Employer