Program Officer - Postsecondary Success [Crown Family Philanthropies]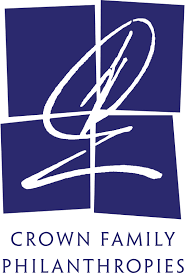 Crown Family Philanthropies
Operations
Chicago, IL, USA
Posted on Monday, November 20, 2023
Position Description Crown Family Philanthropies (CFP or the Foundation) seeks a Program Officer, Postsecondary Success as part of its Chi-Rise team. Chi-Rise is a postsecondary success initiative within CFP's Education Portfolio. Chi-Rise was established in 2020 to improve postsecondary access, persistence, and attainment rates for historically underrepresented students in Chicago. Since its inception, Chi-Rise has led a partner-driven strategy toward that goal, through deep relationships with Chicago Public Schools, non-profit organizations that specialize in college preparation and in-college support, and a robust network of advisors on research, evaluation, operations, and scholarship administration. Together, these partnerships allow Chi-Rise to offer a continuum of support that starts in high school and extends to college graduation. This approach includes three interconnected and mutually reinforcing efforts: Fit & Match, Finance, and Finish. Chi-Rise partners with five neighborhood CPS high schools on the city's south and west sides and invests in their capacity to improve the fit, match and affordability of the postsecondary options that students are exploring and ultimately selecting. The Chi-Rise Scholarship then helps college-bound students finance their college experiences and overcome financial obstacles on their postsecondary paths. Chi-Rise Scholarship recipients also receive the support of experienced and proven postsecondary persistence programming through partner organizations. The new Program Officer position will report to the Director of Education and work closely with other staff and trustees to execute the Chi-Rise initiative. This position will be focusing on the Finance and Finish work of the program outlined above. The ideal candidate will have deep experience in postsecondary education access, affordability, and success work, and be experienced with organizing complex programs with diverse stakeholders. Moreover, successful candidates will be self-directed and possess intellectual curiosity with a demonstrated ability to collaborate with stakeholders with integrity, forthrightness and genuineness. Responsibilities Program Implementation: Work with the Director of Education and broader Chi-Rise team to execute on the Chi-Rise initiative design (specifically focused on Finance and Finish), including:
Analyzing data on Chi-Rise scholarship amounts, student debt burden, and affordability to identify short-term and long-term opportunities to increase the impact of Chi-Rise grants.
Developing and leading all work planning and implementation tracking for work related to postsecondary success
Tracking and communicating updates on progress to internal and external stakeholders.
Identifying opportunities for continual improvement, including understanding changes in the postsecondary success space more broadly and the work in the CFP Education portfolio. Grantmaking : This individual will be responsible for all grantmaking related to the postsecondary success aspect of Chi-Rise. This will include:
Contributing critical feedback to inform grantmaking decisions
Conducting site visits and analyzing grant investment opportunities
Reviewing grantee reports and assessing outcomes and other reported metrics
Preparing written summaries for others on the CFP team and Trustees
Serving as the primary point of contact for relevant Chi-Rise work with the scholarship provider and postsecondary success partner organizations
Soliciting, reviewing, and providing feedback on grant applications and grant reports
Engaging collaboratively with grantees to support the successful completion of grant goals and objectives Subject Matter Expert: Collaborate with and serve as a subject matter expert in the field which requires maintaining a deep understanding of trends, research, challenges and opportunities that affect postsecondary success, including preparation, planning, access, persistence and completion along multiple pathways. Use expertise and knowledge to effectively and timely inform internal and external stakeholders. Secondary Functions CFP Team Activities:
Play a collaborative role within the Program team, seeking and providing guidance with CFP colleagues on issues pertinent to the role
Participate in cross-functional teams that advance organizational aims around social impact and family engagement
Engage in initiatives that foster team collaboration, including meetings, trainings, retreats, and special projects, taking the lead where interest, expertise, and opportunity coalesce Qualifications Required Experience Education: college degree is required; advanced degree or commensurate experience preferred Years of Experience: minimum 7 years of progressive experience with at least 5 years working on postsecondary program-related issues Minimum Knowledge/Skills Required Postsecondary Affordability and Success Knowledge
Strong understanding of the challenges of postsecondary access, success, and affordability, including government and institutional financial aid, student debt burden, other financing options, etc.; familiarity with higher education data sources
Knowledge of the postsecondary success space, including key drivers of postsecondary enrollment and college completion
Familiarity with national experts and research focused on college access, success, and affordability
Strong understanding of the Chicago Public School landscape and Chicago's neighborhoods preferred Project Management Skills
Excellent time management and organizational skills
Proven ability to manage multiple tasks and timelines, prioritize requests from various stakeholders, and successfully deliver on projects
Ability to communicate effectively with a range of stakeholders on the progress of a range of tasks, including identifying potential roadblocks proactively Analytical and Communication Skills
Strong analytical and writing skills, including the ability to assess and synthesize complex information from diverse and multiple inputs into a clear, concise path forward
Excellent communication and presentation skills
Demonstrated ability to execute strategy and multi-faceted programs
Ability to problem solve independently - identifying challenges and proposing potential solutions
Demonstrated ability, through questioning, informal research and prior experience, to understand the feasibility and potential impact of proposed work
Ability to monitor and analyze impact, trends and research, and translate into evidence-based strategic recommendations
Support and manage an evaluation process - including informing qualitative and quantitative research techniques Collaboration and Interpersonal Skills
Ability to engage with, learn from and build consensus among school principals and personnel
Ability to work with partners without direct authority over their work (influence vs. command)
Ability to problem-solve independently and in groups; manage conflicting needs
Willingness to take initiative, manage a high volume of work, meet ambitious deadlines, and respond flexibly to shifting priorities
Demonstrated ability to act with humility and modesty
Demonstrated collaborative team player
Ability to effectively communicate with senior staff and Trustees - providing proactive updates, voicing challenges, and ensuring alignment About Crown Family Philanthropies Crown Family Philanthropies ("CFP" or the "Foundation") is the philanthropic division of Henry Crown and Company and supports the Crown Family's philanthropic and grantmaking endeavors. In 2009, after more than 60 years of family grantmaking under the name Arie and Ida Crown Memorial, CFP was developed to represent an array of family grantmaking practices. Today the legacy of Arie and Ida Crown lives on in the work continued by their descendants, who remain dedicated to the Jewish tradition of tikun olam, or "repairing the world." Supported by a professional staff of experts, CFP is led by more than 50 family members across multiple generations who come together to set strategy and make grantmaking decisions. About CC Industries, Inc. CC Industries goes to market through a portfolio of companies in the following industries: Transportation Equipment & Logistics, Packaging, Capital Equipment, and Food. A primary focus across the portfolio is on manufacturing and distribution including metal fabrication, machining, reinforced composites, injection molding, lamination, and assembly. Why work for us? CC Industries, located in downtown Chicago, is a family owned business with more than a 100-year legacy and track record of creating an inclusive and engaging work environment. The company offers a rewarding workplace with a culture rooted in core values of integrity, trust, and empowerment. The workplace offers a high-level of self-direction and engagement with others to create a collaborative environment. Don't meet every single requirement? Studies have shown that women, members of the LGBTQIA+ community, individuals experiencing disability and BIPOC are less likely to apply to jobs unless they meet every single qualification. At CC Industries we are dedicated to building a diverse, inclusive and authentic workplace, so if you're excited about this role but your past experience doesn't align perfectly with every qualification in the job description, we encourage you to apply anyway. You may be just the right candidate for this or other roles.